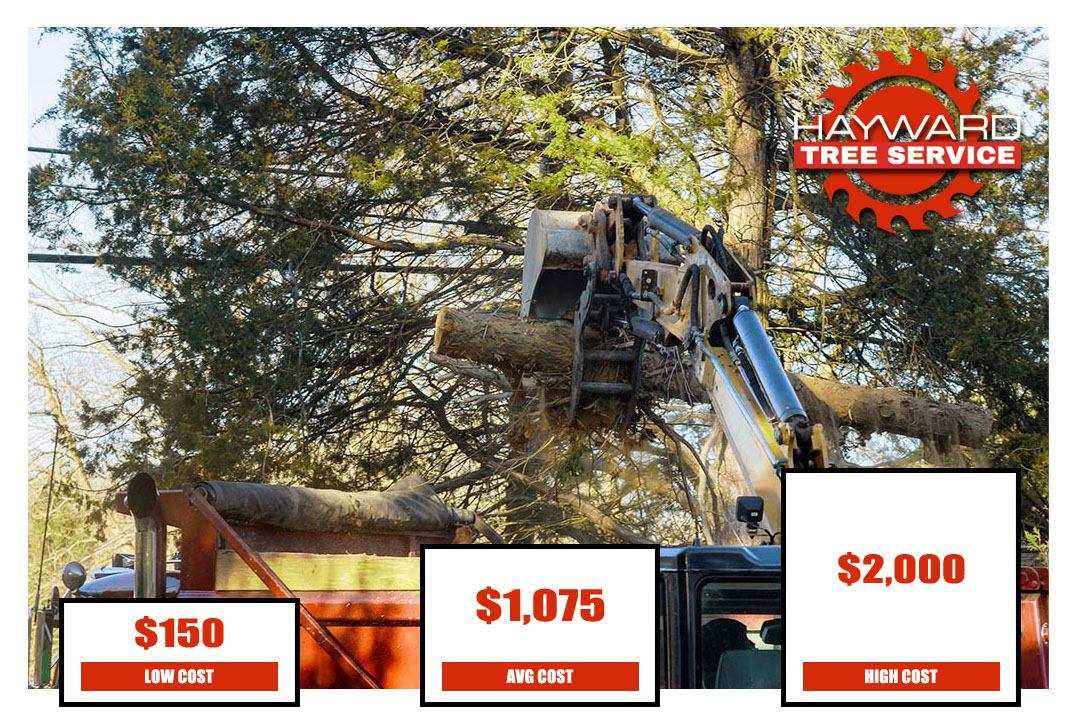 On average, tree removal costs about $1,075 in Phoenix in 2023. Tree removal costs can range from $150 to $2,000.
Tree removal usually costs around $150 to $2,000, with the average cost for cutting down a tree is in the $700–$750 range. Tree removal cost I subject on the size of the tree at issue, and larger trees, overall, cost more for their removal, than smaller trees.
You might find tree removal services ready to do the removal cheaply, but always be sure you are hiring a certified arborist company that is insured for tree removal. Even tree removals that seem straightforward can have unexpected complications or long-term repercussions, so do not leave the safety of your property and the condition of your landscaping at risk. Arborists are required to renew their licenses routinely, so they receive continual training in best methods for tree removal.
Factors That Establish the Cost of Tree Removal
Large trees cost more for their removal since they require more heavy-duty machinery, the method of having them removed is more risky, and there's more material that needs to be disposed of. Nevertheless, there are other factors that establish the cost of tree removal services.
Size of the Tree
Trees 30 feet in height or less are deemed small and removing them usually costs between $150 and $500. A lot of fruit bearing trees are small, as are silver birches and hawthorns.
Medium-sized trees, like an elm or maple, that are 30–60 in height and costs around $600 to $1,000 for its removal. Larger trees such as a mature oak is 60–80 in height and costs around $800 to $1,700 for its removal. Trees taller than 80 feet are going to cost around $1,500–$3,000 for their removal.
Nevertheless, height is not the only measurement that matters. Commonly, trees that are taller also have larger diameter trunks. Tall trees with narrow trunks may cost less to remove than a tree of the equal height with a thicker trunk. If you have a short tree that has a thicker trunk that's very laborious to cut, your tree removal company might charge you extra. Likewise, if a tree has more than one trunk, it makes for a more complex and costly removal.
Health or State of the Tree
A diseased tree can be a safety and health hazard to other trees, your property, and anybody that comes onto your property. These trees might be less costly since it's easier to cut down, but it might be more costly when it's in a precarious position and might cause damage should it fall. Schedule an inspection with a tree removal company to get an estimate in this case.
However, trees that have actually fallen, given that it has not caused an emergency situation, is in fact much less costly than a living tree to cut up and take away. A tree trunk just laying on the ground is a lot safer for a tree removal company to deal with, so you will only be going to have to pay between $100 and $300 on average to have it removed from your property.
Emergency Tree Removal
When a tree unexpectedly falls on your home or vehicle, or it leans dangerously, you are going to need to remove it before it causes more damage. There is going to be quite a difference in cost between a tree removal you schedule a couple of weeks or days out and a tree removal you need sooner than later.
Just like any rush job, you are going to have to pay more for emergency service. The job is also riskier since the arborist is going to have to be very careful to not cause further damage. Tree removal costs are going to vary significantly by situation and by company, however, they can easily go up to $5,000.
Moreover, whereas contractors shouldn't ever engage in price gouging, you might find tree removal costs increasing following a natural disaster, as a lot of people in your area are going to likely require emergency tree removal services. Nevertheless, your homeowner's insurance policy might cover part or all of the cost to remove a tree that falls on your property, so verify with your insurance company prior to paying for tree removal out of pocket.
Tree Removal Services In Phoenix, Arizona
Hayward Tree is offering tree removal from above using a specialized crane. The benefit of this service is that we can remove your tree from above and avoid tearing up your yard and leaving drag marks. No broken limbs, no crushed bushes. It's quick, efficient, and leaves your property looking clean, undisturbed, and untouched. Best of all, it's at no additional cost to you! Contact our team today for a free estimate!