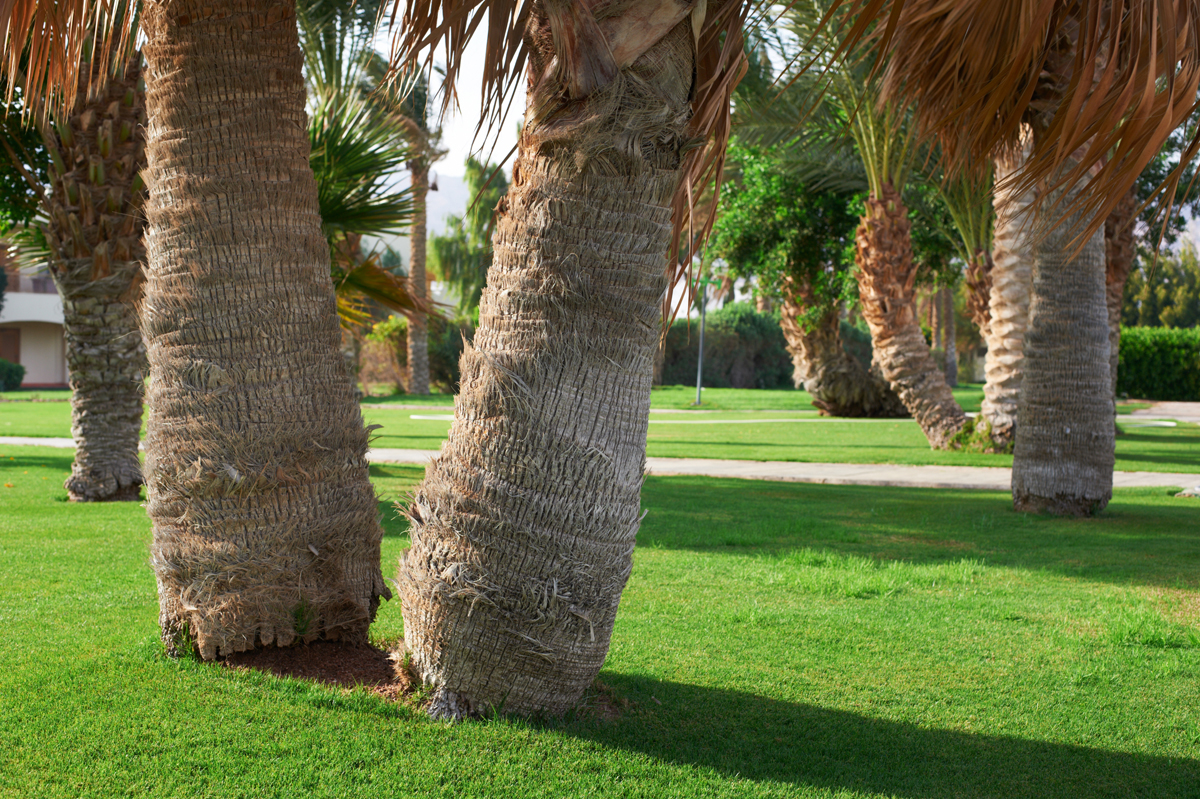 Palm Tree Skinning Steps
Most homeowners choose to skin their palm trees simply for aesthetic reasons. Other homeowners may choose to perform this task because the tree is becoming infested with harmful pests.
Any dead fronds remaining on the tree will still take up the nutrients that should otherwise go to the healthy fronds. These fronds can sometimes be hard to deal with since they will more than likely fall out of the tree. Use our steps below to skin your palms when needed.
Step 1. Determine Health Of Palm Tree
Start by evaluating the health of the tree by inspecting it for any dying or dead fronds.
Fronds that are dying will appear either brown, white or yellow.
Broken fronds need to be removed prior to being torn off, as this can ultimately damage the tree.
Step 2. Gather Proper Equipment
A serrated knife works best for cutting off any fronds less than one inch in diameter.
Larger fronds will call for a pruning or hand saw.
You can use a chainsaw for very thick fronds.
Utilize a step stool for smaller palms and a ladder for larger ones.
Do not wear climbing spikes for this task.
Gloves and goggles should be worn for extra protection.
Make sure to sterilize all skinning tools prior to use.
Step 3. Remove The Fronds
Only remove any dead, dying or broken fronds.
Mature fronds are found below the year's current growth.
Start from the foliage's bottom by clipping off each frond approximately five centimeters from the trunk.
If green fronds hang by more than 90 degrees from the trunk, they should be cut.
Step 4. Dispose Of Debris
Properly discard of all frond debris once the task is complete.
Dangers Of Skinning Your Palm Tree
Skinning these palm trees can come with risks to the individual responsible for this job. If you have any safety concerns at all, it is recommended to call the tree professionals. Trimmers themselves will face a few risks, such as falling from considerable heights.
When the tree is hurt or cut, dead fronds may act as open wounds. Open wounds can then become infected, which can be caused by the trimmer using unsanitary equipment. It's vital to always sanitize your equipment before skinning. Also, cutting too deep into the tree can leave permanent scars.
Tree Removal Services In Arizona
Hayward Tree is offering tree removal from above using a specialized crane. The benefit of this service is that we can remove your tree from above and avoid tearing up your yard and leaving drag marks. No broken limbs, no crushed bushes. It's quick, efficient, and leaves your property looking clean, undisturbed, and untouched. Best of all, it's at no additional cost to you! Contact our team today for a free estimate!