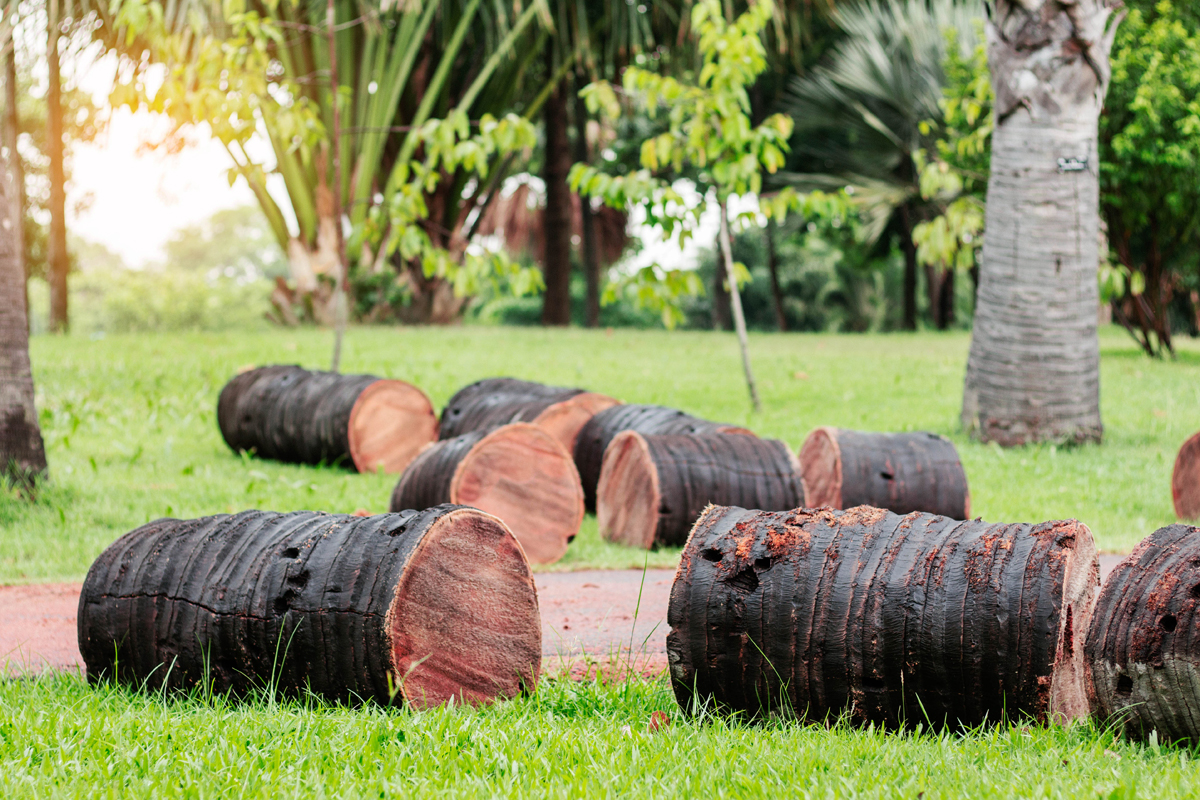 Common diseases like bud rot or fusarium can leave you with no choice but to cut down your palm tree. Use our DIY guide below to cut your tree down safely.
How To Cut A Palm Tree Down In 5 Steps
Tree professionals suggest cutting palm trees that are 8 inches or less in diameter straight through. Follow these 5 steps below to properly cut your palm down using a chainsaw.
Step 1
Begin by making sure there are no trees, structures or utility lines nearby that could potentially be damaged by a fallen tree.
Wear safety equipment, including chaps, gloves, closed-toe shoes and safety glasses.
Step 2
Fuel and start the chainsaw while following the manufacturer's recommendations.
Use the correct oil and fuel for the saw.
Make sure to always follow safety and operating procedures.
Step 3
Use your hands to find the best spot on the trunk of the rotting palm to make your first cut.
Oftentimes, the trunk of a rotting and diseased pam will be soft near the ground.
Move your hands upward to find a hard surface.
This will help to control the desired direction you'd like the tree to fall.
Step 4
Cut one-third of the way through the tree at an upward 45-degree angle.
Make your cut about 1 foot above the ground using the chainsaw.
Make this cut on the side of the tree in the direction you'd like it to fall.
Make a second cut about 6 inches above your first cut, downward at a 45-degree angle.
Remove the wedge at this time.
Step 5
Go to the opposite side of the tree to make a cut about 6 inches above your top cut.
Cut straight through the tree until it begins to fall.
Tree Removal Services In Arizona
Hayward Tree is offering tree removal from above using a specialized crane. The benefit of this service is that we can remove your tree from above and avoid tearing up your yard and leaving drag marks. No broken limbs, no crushed bushes. It's quick, efficient, and leaves your property looking clean, undisturbed, and untouched. Best of all, it's at no additional cost to you! Contact our team today for a free estimate!