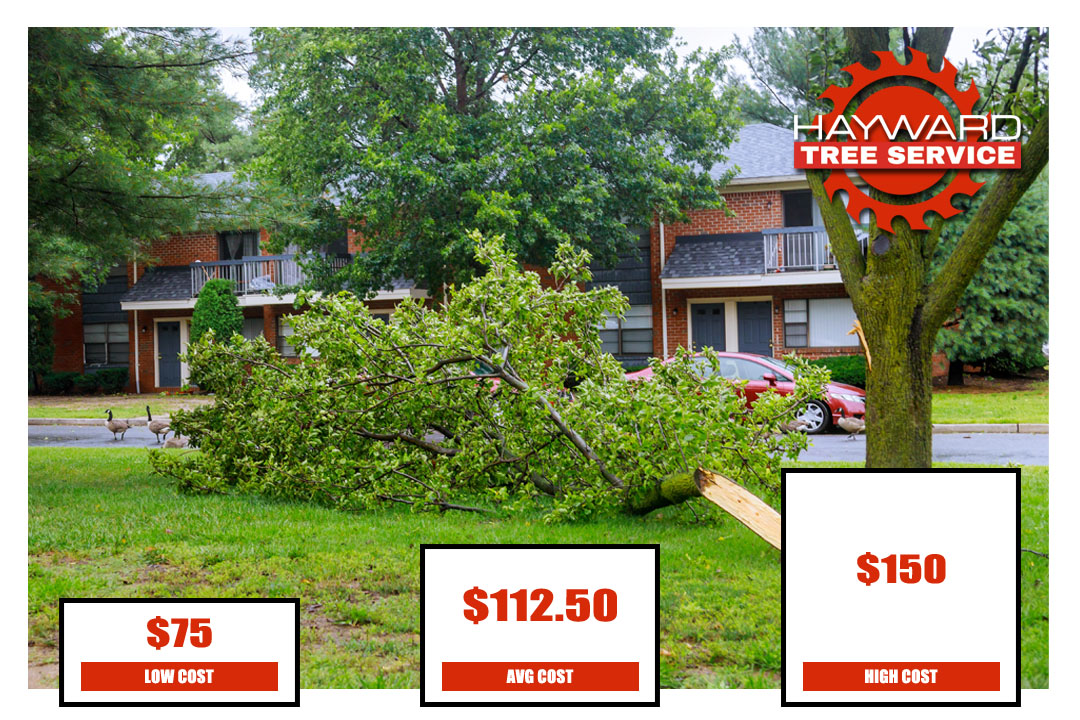 On average, fallen tree removal costs about $112.50 in the U.S. Fallen tree removal costs can range from $75 to $150. These are only estimates, our arborist will assess your fallen tree.
When a tree falls because of a storm, its age, or degeneration, you need to have it removed as soon as you can. Its removal cost is determined by a number of factors, the most important of which is how challenging the tree removal company expects the removal to be.
If the tree has fallen close to overhead utility wires, get a hold of your utility company immediately prior to having the fallen tree removed. You don't want to inadvertently cut off the power to your whole neighborhood.
Factors that Impact Removal Costs
The diameter, size, and height of the tree, in addition to whether it was of good health when it fell, all impact the cost. A healthy tree is more challenging to break down and remove. The tree's height is definitely the costliest factor, but the trunks diameter is also important. Simply put, the more trees that are required to be broken down, the more money you might expect to pay.
Since it is easier to break down a rotting or dead tree, removal should be less costly. When this is the case, tell each company that you are requesting a price, as this should end up in a reduced quote. Lastly, the cost is impacted by the position of the tree.
You should also get a hold of your insurance agency to see if they might cover the removal of the tree in addition to any damage it might have caused to your property.
The Average Cost of Removing a Fallen Tree
Thankfully, removing a fallen tree is typically less costly than removing one that is still securely planted. You might expect paying around $75 to $150 on average, though the price of transporting the tree could be more. It might cost extra when the branches are required to be trimmed down. The cost of removing a stump is around the same as the cost of tree removal, ranging from $75 to $150 subject to the diameter of the stump and the technique used for its removal. Hourly rates differ widely by location, as a result costs differ a lot subject to where the tree has fallen.
Added Factors to Think About When Dealing with a Fallen Tree
When getting estimates, make sure you know precisely what you're getting. Added expenses for stump removal and transportation are typical.
Stump Removal
Unless your tree was torn out by its roots because of a monsoon storm, your fallen tree most likely left a stump. A lot of stump grinding and removal services require an additional fee. The two most favorable pricing choices are by the inch ($2–$3 each inch) or by a minimum rate of around $100. When you require a lot of stumps to be removed, anticipate paying an hourly rate of around $150, whereas some companies require a one-time cost of about $150 for the first stump and a much lower rate of around $50 for each consecutive stump.
When the tree is somewhat huge and needs to be cut into manageable pieces for removal, an additional price of around $50 could be charged.
If you want to convert your fallen tree into firewood, you are going to have to pay around $75 for someone to cut the logs into firewood.
Travel: When you live in a remote location, you might be charged an additional fee for travel, which differs greatly on the basis of your approximate location and the distance the tree company needs to travel to get to you.
Who Is in Charge of Tree Removal?
Overall, you are only responsible for harm to someone else's property when you had knowledge that the tree was sick or dying when it was planted. This typically means that the deterioration is visible—for instance, in the summer, limbs devoid of leaves. Other indications of a dying tree include:
Throughout the growing season, brown, yellow, and fragile leaves or needles appear, particularly in the top 3rd of the tree.
Branches that are extremely damaged or have fallen.
Patches of missing bark
Developing fungus
Wood-boring pest have created rows of holes in the tree.
Shaved or slimy roots
There is a. obvious slant in one direction.
It's not typically your responsibility to fix invisible damage that only an arborist can see. When you're aware of a possible hazardous tree on your property, take steps to have it removed; when you don't, you could be held liable for any damages caused by the tree's breakdown.
It's vital to remember that liability for fallen trees differs by state and/or jurisdiction. For instance, metropolitan areas might have higher standards of care than rural areas, as a result an urban homeowner might need to oversee trees along property lines more routinely than a rural landowner. To discover what the standards are in your area, contact your jurisdiction arborist department.
Fallen Tree Removal Services In Arizona
Hayward Tree is offering tree removal from above using a specialized crane. The benefit of this service is that we can remove your tree from above and avoid tearing up your yard and leaving drag marks. No broken limbs, no crushed bushes. It's quick, efficient, and leaves your property looking clean, undisturbed, and untouched. Best of all, it's at no additional cost to you! Contact our team today for a free estimate!